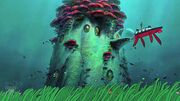 Fujimoto's Underwater Lair
is a place who
Brunhilde
lived in before she was renamed Ponyo by
Sosuke
.Ponyo got into her father's potions, which caused all of her sisters to temporarily transform into massive-watery fish that she could search for Sosuke on.  
Fujimoto's Underwater Lair
Fujimotopx
Fujimoto

Debut

Ponyo

Ruler(s)

Fujimoto

Inhabitants

Ponyo,Sisters of Ponyo,Fujimoto,Gran Mamare
Ad blocker interference detected!
Wikia is a free-to-use site that makes money from advertising. We have a modified experience for viewers using ad blockers

Wikia is not accessible if you've made further modifications. Remove the custom ad blocker rule(s) and the page will load as expected.