Gran Mamare

Gender

Female

Hair

Red

Eye color

Brown

Personality

Beautiful and Happy

Family

Gran Mamare is Ponyo's mother. She is the Goddess of Mercy and the Queen (as such) of the ocean. She is the wife of Fujimoto and is also the mother of Ponyo and all her sisters. When she spoke to Lisa after the city was flooded, she entrusted Ponyo into her care, thus ensuring her daughter's safety and protection.
Abilities
Edit
She has the ability to change size at will. She also has the ability to turn on and off lights remotely, as well as provide objects with power, as demonstrated when she went past
Koichi
's Ship, which started the engine.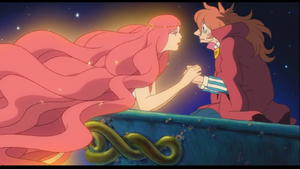 Ad blocker interference detected!
Wikia is a free-to-use site that makes money from advertising. We have a modified experience for viewers using ad blockers

Wikia is not accessible if you've made further modifications. Remove the custom ad blocker rule(s) and the page will load as expected.