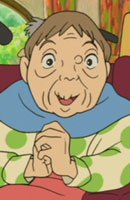 Noriko
is one of the old woman in the local Senior center in Sosuke's city.
For most of the movie, Noriko was in the Senior center in Sosuke's city, but once It was evacuated due to the rising sea levels, Fujimoto convinced her, Yoshi and Toki to go to an underwater membranous bubble. Once they got there, they found that they had the ability to walk and run once more.
Appearances
Edit
Noriko is elder.
Ad blocker interference detected!
Wikia is a free-to-use site that makes money from advertising. We have a modified experience for viewers using ad blockers

Wikia is not accessible if you've made further modifications. Remove the custom ad blocker rule(s) and the page will load as expected.